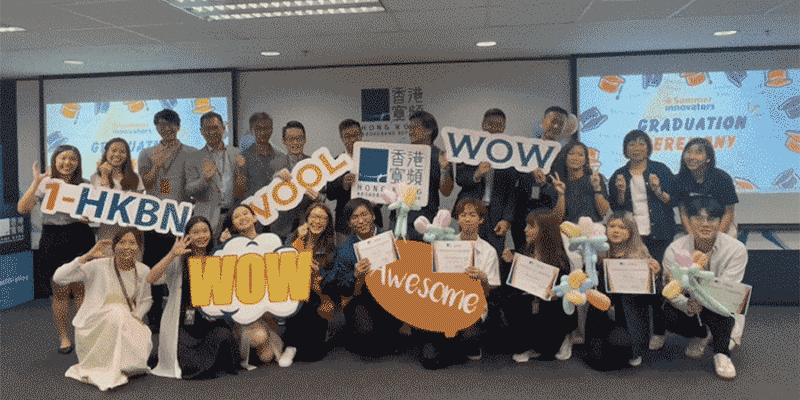 Dear Friends of HKBN
Transcendent Summer: Empowering Careers, Unveiling Life's Lessons
Every year, our Summer Innovator (SI) Programme goes beyond the traditional internship, offering an invaluable 8-week journey filled with career + life lessons that our 21-year-old selves would absolutely jump at if given the chance to travel back in time.
This summer, our vintage 2023 Summer Innovators not only got access to an amazing lineup of leaders and even C-level mentors, but they also zipped through countless "wow" exposures. From witnessing AI technologies in action to behind-the-scenes visits at companies like Microsoft, our SI journey provided more than just a resume boost. It expanded the horizons of these aspiring Talents, fostering their innovative mindsets and equipping them with the skills to navigate and reshape their future careers.
"At HKBN, we thrive on pushing beyond our self-defined limits and continuously striving to become the best versions of ourselves. It's an essential part of our spirit. Our Summer Innovators embrace empowerment as their magic wand, allowing them to undergo a remarkable transformation from shy, humble, and passive 'potatoes' into proactive, confident individuals ready to make a positive impact on the world."

Adele Chu
Co-Owner and Director – Talent Engagement
"The Summer Innovator programme was a short but incredibly valuable experience that has provided me with insights and guidance for my future success. At HKBN, I learned the importance of dreaming big and seizing every opportunity, no matter how small it may seem. This proactive mindset has given me the confidence to pursue my goals with curiosity and determination, knowing that I have the potential to achieve great things. Thanks to my journey with HKBN, I feel empowered to break down barriers and pursue my biggest aspirations."

Eric So
Summer Innovator – Information Security
"One of the most valuable lessons I have learned to stand out from the crowd and impress others. Our Group CEO, NiQ, places great emphasis on the importance of WOW-ing others, and this philosophy is deeply ingrained in the company culture. We are constantly encouraged to go above and beyond in our work, as this is the most effective way to leave a lasting impression on others."

Ellie Lee
Summer Innovator –
Talent & Organisational Development
To check out our Summer Innovator's journey of transcendence, click below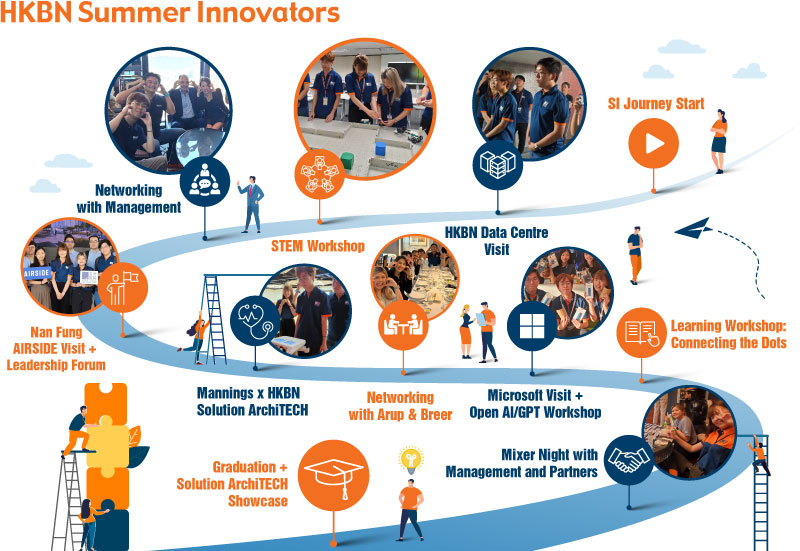 With eye-opening exposures every single day, this ain't your run of the mill internship!
| | |
| --- | --- |
| | |
| Our SIs proudly embody HKBN culture, outfitted in matching uniforms. | SIs in a behind-the-scenes tour at our data centre. |
| | |
| --- | --- |
| | |
| There might be a future in robotics for one of our SIs! | A moment of SI quirkiness during our exchange-visit at Nam Fung Property Management. |
| | |
| --- | --- |
| | |
| Meet the ambassadors of our latest. HKBN x Mannings ArchiTECH Solution. | At the graduation ceremony, SIs celebrated with fellow Talents, senior leaders and mentors. |
*Leading through purpose, HKBN tops Hong Kong's telco industry in ESG*
*Based on the Hang Seng Corporate Sustainability Benchmark Index and MSCI's ESG Ratings