Our Summer Innovators, 16 selected from over 1,500 applications, eager for their mission to promote HKBN!
Transformed in 8 Weeks: Our 2019 Summer Innovators' Career-widening Journey
At HKBN, we believe a company is only as good as its people, or as we say, Talents. We hire Talents not only for their immediate impact but also for their future potential. By investing in Talent development, we drive our company forward. The same principle holds true for our Summer Innovators – we offer far more than just office based experiences, rather a wide range of real world exposures, so they can step beyond their peers and thrive in future challenges.

When we say more than office based experiences, we mean going beyond just stacking them with tasks – we present ample opportunities to socialise and learn from the best across a wide range of industries, beyond just HKBN. By encouraging them to talk and making our senior executives available for dialogues, our Summer Innovators soaked up valuable lessons and industry insights. We also looked outwards – finding occasions for them to mingle with other top executives and industry leaders!

Now graduated from the programme wiser and bolder, they are more ready than ever to influence the world with their HKBN experience!

Click to see our Summer Innovator's exciting reflections which highlights their transformations!
Summer Innovators learned about big data and cultural transformation at Microsoft's office in Hong Kong.
The young Talents were taught the ins and outs of promoting our services to customers.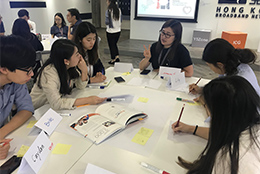 Sandy Wong (centre), our Corporate Social Investment Manager, offered constructive feedback on their sustainability proposals.
Alvin Lam (top row, 6th from right), Principal at CVC, shared his leadership insights during our Summer Innovators' visit to CVC.