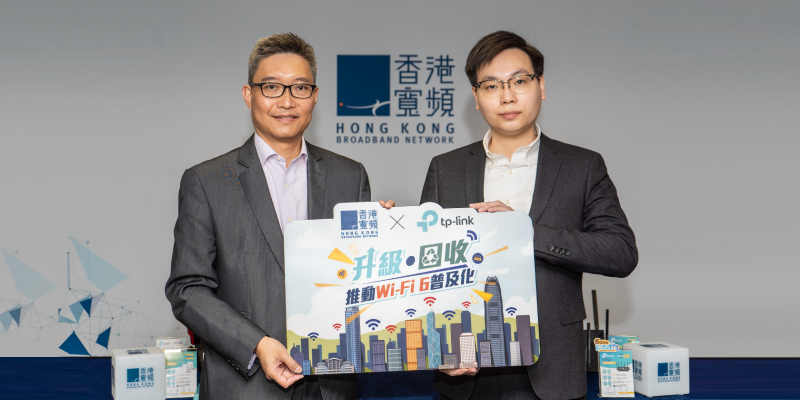 With our strategic partner TP-Link, we're creating great new possibilities through aligning business with Purpose. Pictured above is Rex Hui, our Co-Owner and Head of Product Development & Management, Residential Solutions and Howard Lai (right), TP-Link's Marketing Manager.
Going Green with our Business Partnerships
Here's another example of HKBN actively making Purpose and sustainability a bigger part of our everyday business. This time, we teamed up with TP-Link, our business partner and a global leader in network equipment, and launched our Wi-Fi 6 Router Upgrade & Recycle programme for all consumers in Hong Kong.
Exemplifying two companies doing business and doing good at the same time, our collaboration brings the benefits of Wi-Fi 6 and 6E technology (with enhanced security and better connectivity for more concurrent devices) to the mass market, whilst incentivising customers for being eco-conscious. It's what we call a win for business, a win for consumers, and a win for the environment.
Leading through purpose, HKBN tops Hong Kong's telco industry in ESG*

*Based on the Hang Seng Corporate Sustainability Benchmark Index and MSCI's ESG Ratings